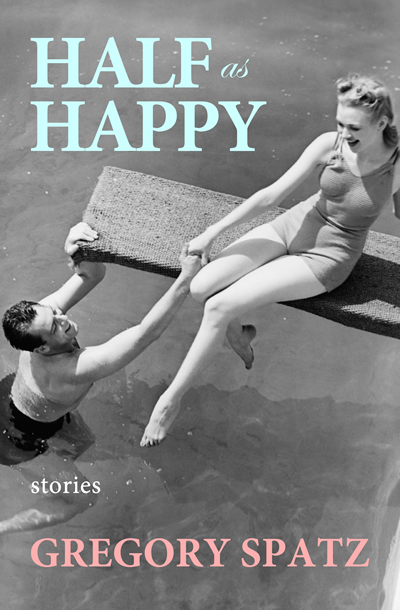 ---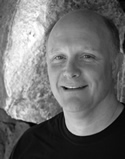 Gregory Spatz is the author of the novels Inukshuk, Fiddler's Dream, and No One But Us, and of the story collections Half as Happy and Wonderful Tricks. His stories have appeared in many publications, including The New Yorker, Glimmer Train Stories, Shenandoah, Epoch, Kenyon Review, and New England Review. The recipient of a Michener Fellowship, an Iowa Arts Fellowship, a Washington State Book Award, and an NEA Fellowship in literature, he teaches at Eastern Washington University in Spokane. Spatz plays the fiddle in the twice Juno-nominated bluegrass band John Reischman and the Jaybirds.

"Spatz writes like a dream." —Publishers Weekly
A grieving couple rents a desperate landlord's house in an effort to recover lost intimacy. Twins are irrevocably separated by events both beyond and within their control. A nighttime prank and its gruesome aftermath forge human connections no one could have anticipated.

The eight stories in Half as Happy reveal with startling clarity their characters' secrets, losses, and desires. Each with the depth of a novel, these insightful portraits of the darkness and light within us reverberate long after they've ended, like beautiful and disturbing dreams.
"Each story moves and unfolds, deepens and develops beautifully complex textures and moods, not unlike beautiful pieces of music. Spatz has a pitch-perfect ear for the language and an uncanny ability to mine the substance of his characters' rich lives. These stories are both funny and sad, in the true and inescapable way of real life, full of elegiac beauty. A masterful collection."
—Brad Watson, author of Aliens in the Prime of Their Lives and The Heaven of Mercury
"These stories generate the quiet thrills of necessity. Being as they are 'ruled equally by the infinitesimal and the grand,' they resemble our own lives, reflect back to us those human circumstances in which we recognize ourselves, our own better and worse impulses, our own greater and lesser dreams. These stories will mend readers' hearts even as they break them and that is what makes them so wonderful and rare."
—Paul Harding, Pulitzer Prize winning author of Tinkers.
"These are beautifully-wrought, haunting stories. Spatz is a marvelous writer, with a keen eye for the secrets of the human heart."
—Dan Chaon, author of Stay Awake
"Gregory Spatz's stories search out the extraordinary complications of human relationships with great intelligence and unexpected finesse, and their resonance lingers with bell-like clarity."
—Erin McGraw, author of The Seamstress of Hollywood Boulevard
"Gregory Spatz's voice, in the eight previously published stories now collected in HALF AS HAPPY, is wonderful. He is as observant, as trenchant, as sympathetic towards his characters as any writer working today...These are vibrant, richly described, indelible stories. Gregory Spatz is a masterful writer, working at the top of his game." —Edra Ziesk, The Nervous Breakdown
"Intricate fiction that goes against the grain of conventional expectation. There are stories here that have the potential to linger in memory for their sheer unlikelihood, that rare never-read-anything-like-it quality." —The Brooklyn Rail
---
ISBN: 978-1-938126-09-3
Price: $14.95
Trade Paperback Original
188 pages
eBook ISBN: 978-1-938126-03-1
$14.95
Distributed to the trade by Ingram Distribution